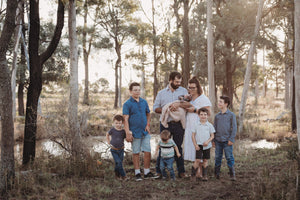 MEET THE MAJORS
It runs through our veins like water through the Condamine River after a few inches of rain. We have dirt under our fingernails and grass seed in our socks; we are a farming family. 
We are third generation farmers on a mixed farming property in South West Queensland with our 5 amazing sons & our newest bundle of joy, our daughter. We grow cereal crops, breed cattle, and work along side our parents in operating a earth moving business. 
We have endured the hardship of living and working on the land. We have seen the devastation of drought, and floods and we have been blessed to experience all the beauty living on the land has to offer on a good season. 
Farming is in our blood and we're delighted to share our passion and love for farming with you all. 
---